Buc Book & NADA Used Appraisal Guide for boats or yachts
Are you trying to establish the value of your next boat or yacht purchase? Most all of us have heard of the N.A.D.A. and Buc Book used boat appraisal guides.
NADA Used Boat Guide AND Buc Book are both widely recognized appraisal guides in the marine industry providing the most up to date boat and yacht market values.
Should you have question regarding your boat loan value, please feel free to contact one of our financing staff to help guide you in your boat or yacht purchase. Of course we hope that you will consider Excel Credit when it comes time to finance your boat or yacht. Book mark this page for future book out information.
Buc Used Boat Values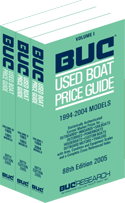 Click here for Buc Book Boat Appraisal Guide
If you want to find the Buc Book Value of your boat, or if you are buying a boat or refinancing a boat or luxury yacht, call us today! 1- 800-337-7774